Solutions from Science, a long time provider of robust solar power generators such as the Power Source 1800 now offers many other items for the survivalist planning on the collapse.
Survival Foods, Seeds, Solar Power Solutions, Books, DVD's, Clothing, Crisis Cookers, and other Emergency supplies are available. The book store is pretty impressive and contains all the "how to" books a prepper would need, including one I found on harvesting and saving non-hybrid seeds.
One of their most interesting books is entitled "Christian Liberty or Martial Law" which unfortunately maybe be the only choices left to us as life as we know if is rapidly disintegrating right before our eyes. Anyway, check out and book mark this site and check back from time to time.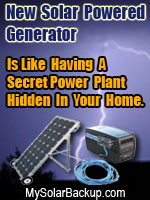 This notion of Martial Law is not some far out, whack job theory. With close to 50 million people, about one sixth of our population on some sort of government subsistence, and that number is growing every day, it is only a matter of time until the need for subsistence out grows the Government's ability to provide that subsistence. We will most likely see food riots in huge numbers, making the Occupy Wall Street movement look like family picnics. The government's only control measure will be martial law. I hope like hell this doesn't happen, but the forecast looks good.